The web is a bit like a library- you can go straight to Tolstoy to broaden your mind, or you can go straight for the magazine rack to find out what Snooki's been up to lately. Tools that help us improve ourselves are a component of what makes the web truly valuable. The web is also a bit like your social life- surrounding yourself with the best and brightest people, eventually, will pay dues.
Signing into Schemer, of course, requires a Google account. Your homepage is a simple list of things you'd like to do- so to start using Schemer, you'll need a few aspirations. Need some help? No problem: click on "find stuff to do" at the top of the page for Google's recommendations, which will start with the to-do's of friends from your Google+ circles. To begin, Schemer asks you to pick a few categories that interest you to narrow down your probable activities: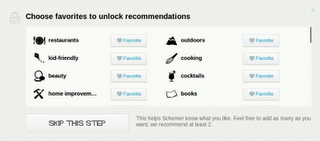 When you find an item you'd like to do, just click the plus sign next to it. If you've already done it, click the checkmark, and if you're just not interested, you can remove it from your recommendations.
Still need ideas? Go back to your homepage, and Schemer will present you with a list of recommended Schemers, and at the bottom of that list is a gallery of Google's featured partners, which is where things truly get interesting. The partners range from our beloved
Lifehacker
with tasks such as "clean the inside of your PC," or "take ariel photographs with a balloon mounted camera" to Rolling Stone, who invites you to go to the Occupy Wall Street protests with Crosby and Nash. The list of partners and subsequent tasks is huge, eclectic, and quite fun, including the likes of
Parenting Magazine,
IGN
, and
Bravo
.
There are plenty of goal-oriented apps around the web- some simple, some elaborate- all of which can help you keep track of the things you want to do. No one quite the flair, the fun, and the simplicity of Schemer, and in the end, the tool that engages you (aka the tool you actually use) is usually the tool that pushes you forward in pursuit of your goals. It will be interesting to see where Google takes Schemer, as it has the potential to be much more than a wish list. Only time will tell, of course, but in the meantime, I'm just going to enjoy engaging with this simple, fun, and motivational community of extraordinary people.


To sign up, use this invite link until it's all used up.